Wednesday, October 31st, 2007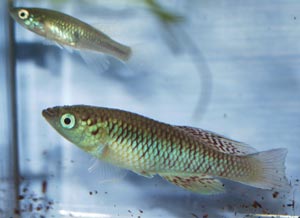 I initially bought a pair and a trio of Nothobranchius sp. Messalo River MZHL 05-12 from the BKA convention in October 2006 – they were were not small fish, but despite their size, had practically no colouration in the BKA show tanks (see picture, right) . Once set up at home, in a darkish tank with some floating plants, the males 'switched on' their colours.
The fish did well, laying huge numbers of eggs, many of which were distributed in the UK. When my first bag was ready I had a lot of tank space, and so raised a LOT of fry.