Fundulopanchax marmoratus
Fundulopanchax marmoratus
Fundulopanchax marmoratus female
Current Scientific Name:
Fundulopanchax marmoratus
Described: (Radda), 1973
Common name(s):
Distribution: Cameroon
Some Recorded Strains:
Mbonge
Mundemba GS88-1
Breeding Fundulopanchax marmoratus
Have you had any experience breeding this species? Why not fill in a species questionaire
---
1 other fishkeeper has successfully bred this species and left a report, results are sumarised below
Method:

Peat (or similar) spawning substrate (100%)
Water Conditions:

Neutral (100%)
Temperature:

20-23°C (100%)
Read the full breeding report(s) for Fundulopanchax marmoratus
---
Fundulopanchax marmoratus Mbonge - pair
Links
Fundulopanchax for sale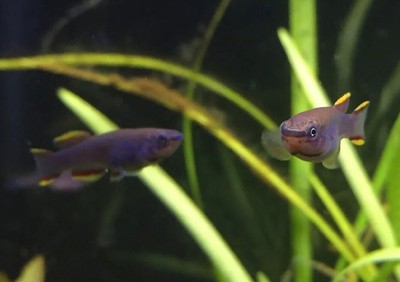 LOS ALAMOS, CALIFORNIA, 93440, USA
$18.00
This post is for a young Pair (male and female)of Fundulopanchax gardneri Killifish. These Killis are tank raised and very hardy. They can adapt and thrive in a wide variety of water parameters and temperatures. These fish are very easy to care for and are not picky eaters. They'll eat live, frozen, freeze dried, or flake foods. As they grow and mature the males in particular color up very nicely. These fish are very easy to breed and are extremely prolific, producing several eggs each day. I've...
more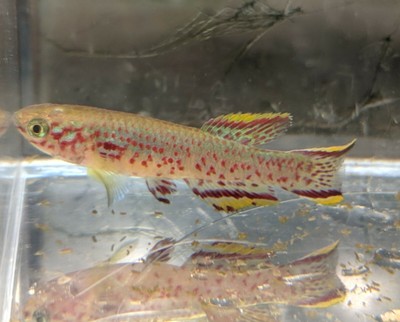 PHOENIX, ARIZONA, 85042, USA
$25.00
Fundulopanchax Gardneri Rayfield. Description TANK BRED, SOLD AS PAIRS CARE GUIDELINES: Diet: Carnivorous. A variety of high-quality dry, frozen, and live meaty foods is necessary for optimal health and coloration. Social behavior: Congregates loosely in mops. Males can be territorial when attempting to spawn. If fed small enough food, fry will grow in tank. Origin: Tank-bred, but indigenous to Nigeria and West Cameroon, Africa Average adult size: 2 inches for males, 2.5 inches for females ...
more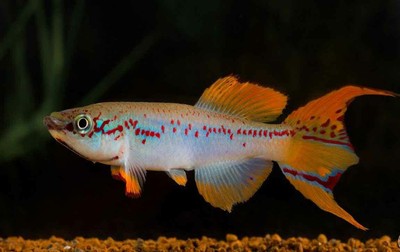 CHATUCHAK, TH
$12.99

Fundulopanchax marmoratus breeding reports
Each record reproduced here represents one instance of breeding this species. Have you kept and bred Fundulopanchax marmoratus? Why not add a breeding report? If you had different results, or used different methods, please share your experiences
How to keep and breed Fundulopanchax marmoratus
This database consists of breeding reports provided by the world killifish community, along with some statistical analysis. Results provided by successful keepers are aggregated in the bar charts below, with more detailed reports below that. Like any block of data, the larger the more significant. Please contribute a report of your attempt to breed Fundulopanchax marmoratus, even if you have had a negative results. You may, of course, file more than one report, particularly if you change some condition, and had a different result.
breeders have filled in breeding reports, a summary of the results are shown in the graphs below.
Would Fundulopanchax marmoratus be a good addition to a community tank?

Never
Doubtful, only with VERY calm fish
Only with species of similar size
Yes, a good community fish
How would you describe the disposition of Fundulopanchax marmoratus?

Very timid
Slightly timid
Neutral
Somewhat aggressive on occasions
Very aggressive
In which water conditions do you keep these fish?
Very soft and acidic
Moderately soft and acidic
Neutral
Moderately hard and alkaline
Very hard and alkaline
At what average temperature?

10-15°C
16-19°C
20-23°C
24-27°C
28°C+
How would you describe sex ratios when breeding Fundulopanchax marmoratus?

Almost all males
Somewhat male heavy
Roughly equal
Somewhat female heavy
Almost all females
In general, how difficult is Fundulopanchax marmoratus to keep and breed?

Very easy
Easy
Average
Difficult
Very difficult
How successful have you been at breeding Fundulopanchax marmoratus?

Very unsuccessful
Fairly unsuccessful
Average
Fairly successful
Very successful
Very successful / fairly successful
Breeding Report: Fundulopanchax marmoratus
Water conditions:
Neutral
,
20-23oC
Spawning Method: Peat (or similar) spawning substrate
Sex ratio: Somewhat female heavy
Breeding difficulty: Easy
Success: Fairly successful
Breeder: (2 years experience with this species)
Date this record created: 7th December 2006
Average success
Breeding Report: Fundulopanchax marmoratus
Water conditions:
Moderately soft and acidic
,
24-27oC
Breeding difficulty: Very easy
Success: Average
Other Comments: je voudrais connaitre les paramètres de l'eau et la température idéal pour ce poisson ,la reproduction est elle mailleur avec des mops ou sur tourbe?,la nouriture la plus adapté, enfin la méthode la plus efficace pour maintenir ce poisson, et pour un frai obtimum ,faut il un couple ou un trio. en vous remerciant de vos réponses, je vous prie d'accepter toutes mes salutations .
Breeder: MENOT, 74440 MIEUSSY (1 years experience with this species)
Date this record created: 2nd August 2009
Unsuccessful
Breeding Report: Fundulopanchax marmoratus
Water conditions:
Moderately soft and acidic
,
20-23oC
Spawning Method: Spawning Mops
Breeding problems: Poor egg production
Sex ratio: Roughly equal
Breeding difficulty: Very difficult
Success: Very unsuccessful
Breeder:
Date this record created: 8th October 2003
Breeding Report: Fundulopanchax marmoratus
Water conditions:
Neutral
,
20-23oC
Spawning Method: Peat (or similar) spawning substrate
Sex ratio: Roughly equal
Breeding difficulty: Very easy
Success: Very unsuccessful
Breeder: (1 years experience with this species)
Date this record created: 5th February 2005
Fundulopanchax for sale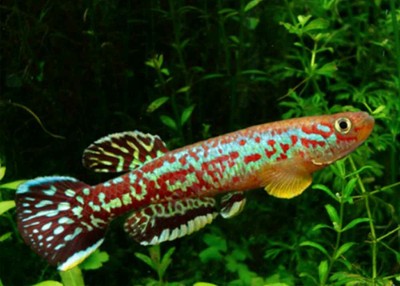 KHLONG TOEI,BANKOK, TH
$8.99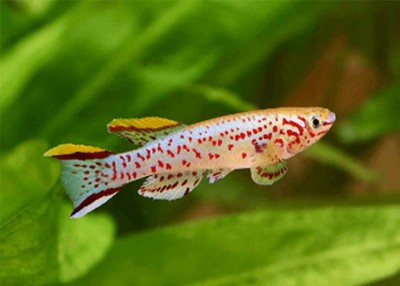 KHLONG TOEI,BANKOK, TH
$9.99