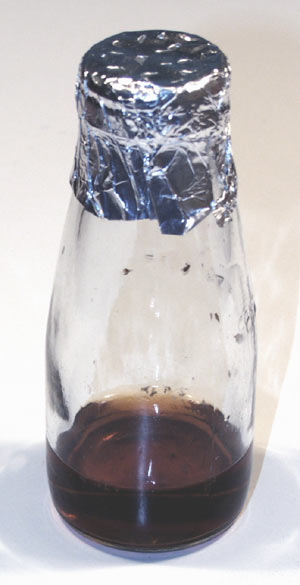 A home-made fly trap thats very effective
Media consistancy problems
When preparing food for the flies, it is easy to make it too hard or too soft. This is an advantage of the Sussex media mentioned in Fruit fly food which is right every time. Too wet media can be countered by inserting twisted or screwed kitchen roll or newspaper - both absorbing some moisture and creating walkways for the flies. This can be done in any case, and can increase fly yields if there is often a shortage of pupation sites.
Mold
Mold is scarcely a problem if mold inhibitors are used, but also moldy cultures are usually lightly populated. The flies (and larvae) prevent mold when present in great enough numbers. Using narrow vials with a small surface area certainly helps. When reusing old vials ensure they are cleaned efficiently - failure to do so will also increase the likelihood of mold. A soak in weak bleach can help, but make sure they are rinsed thoroughly afterwards.
Mites
Can destroy a culture. Some merely feed on the media with the flies, but some are parasitic or egg eating. Mites can be treated with Benzyl benzoate soaked bungs, but it is probably easier to discard all cultures and get clean fly stocks. Mite prevention is probably more appropriate, and flies should be housed away from possible contamination, such as in a larger closeable cabinet.
Flightless flies starting to fly
This does happen. Flies can breed with wild flies through thin vial tops (netting for example), or mix with them during handling. Where possible use foam bungs, and try to keep your flies in a closed space away from potential contamination. Once this happens, you really need to replace your stocks and start again.
Fly explosions
Yes they will get out. I use a vinegar trap; vial of vinegar with a perforated tin foil lid. The flies head straight for it.
---
Fruit fly cultures for sale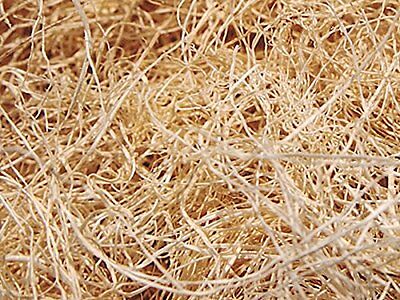 ATLANTA, GEORGIA, 30328, USA
$69.95
5lb Box of all natural Aspen wood wool excelsior. It's great for floral arrangements, as a packing filler, pet bedding with hamsters and mice, hens and chickens. It is also an ideal base for culturing fruit flies when raising Dart Frogs. High bulk light weight. Undyed 100% natural product.This is an all natural product cut from kiln dried Colorado Aspen. It is new never used and does not contain any foreign materials. I see many listing of people reselling Excelsior from things they've received ...
more


PORT ANGELES, WASHINGTON, 98363, USA
$67.00
Normal 0 false false false EN-US JA X-NONE You will receive (1) jar of:Repashy Superfly Fruit Fly Culture Media For Hydei And Melanogaster Fruit Flies (6.6 pounds)Repashy Superfly is an Instant Formula for Drosophila Culture. This Premium Mixture is fortified with Minerals, Trace Elements, Vitamins, and Carotenoids in order to Maximize the Nutritional Value of Fruit Flies when they are used as feeders. DIRECTIONS: To make a typical Repashy Superfly culture (32 oz. size deli container) add ...
more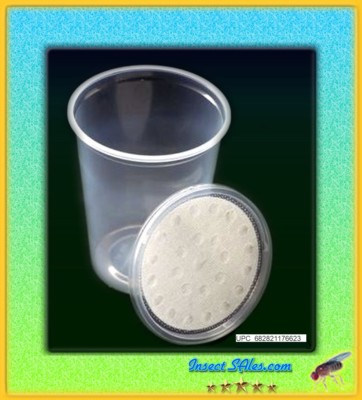 PORT ANGELES, WASHINGTON, 98363, USA
$59.99
Fruit Fly Insect Culture Cups (32oz.) with Vented Fabric Lids - 100 Pack Powerful eBay listing templates by 3Dsellers...
more