Aphyosemion cyanostictum LEC 93-59
Aphyosemion cyanostictum LEC 93-5 female
Current Scientific Name:
Aphyosemion cyanostictum
Described: Lambert & Géry, 1968
Common name(s):
Some Recorded Strains:
LEC 93-5
LEC 93-59
Breeding Aphyosemion cyanostictum
Have you had any experience breeding this species? Why not fill in a species questionaire
Links
Aphyosemion for sale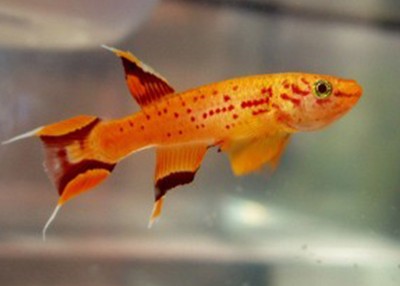 KHET LAT PHRAO, TH
$8.29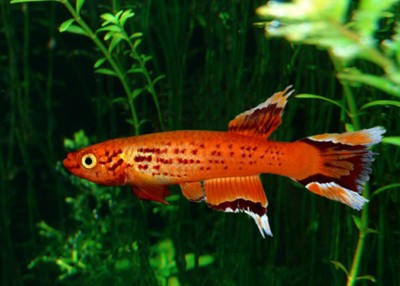 WATTHANA, TH
$12.99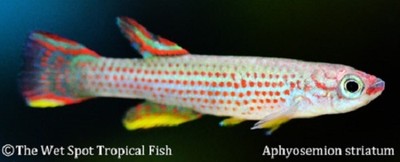 PORTLAND, OREGON, 97213, USA
$18.00
Aphyosemion striatum "Red Striped Killifish" TR Two subadult fish at 1-1.5". Shipping Policies Combined shipping rates are available on all orders. If you have your items in your shopping cart, the Request a Total from Seller button appears when you scroll your cursor over the items in the box at the center of the page. When this option is used, we can then send an invoice with combined shipping. Alternately, open one of the listing pages and click on 'ask seller a question'. You can then ...
more

Aphyosemion cyanostictum breeding reports
Each record reproduced here represents one instance of breeding this species. Have you kept and bred Aphyosemion cyanostictum? Why not add a breeding report? If you had different results, or used different methods, please share your experiences
How to keep and breed Aphyosemion cyanostictum
This database consists of breeding reports provided by the world killifish community, along with some statistical analysis. Results provided by successful keepers are aggregated in the bar charts below, with more detailed reports below that. Like any block of data, the larger the more significant. Please contribute a report of your attempt to breed Aphyosemion cyanostictum, even if you have had a negative results. You may, of course, file more than one report, particularly if you change some condition, and had a different result.
breeder has filled in a breeding report, a summary of which is shown in the graphs below.
Unsuccessful
Breeding Report: Aphyosemion cyanostictum
Water conditions:
Very soft and acidic
,
20-23oC
Spawning Method: Spawning Mops
Breeding problems: Poor fry survival rate
Sex ratio: Somewhat female heavy
Breeding difficulty: Difficult
Success: Fairly unsuccessful
Other Comments: 1 male/3 females worked well. Male was shy and slow to mature.The fish required seclusion to come out of hiding. Once fertile egg production began, they were prolific. Fry need protection from each other. Moss works well.
Breeder: Meade Roberts, California (1 years experience with this species)
Date this record created: 25th April 2008
Aphyosemion for sale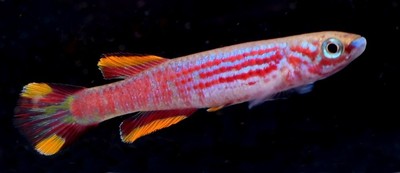 RAYMOND, OHIO, 43067, USA
$56.50
Adult pair of Aphyosemion pyrophore 'Komono RPC 82' Killifish Size is not guaranteed, we try to size the fish as accurately as possible but size can vary so much depending on how long we have had the fish. Please ask if you need to know the current size. Most of the fish we sell are young juvenile fish, they may not look like the photos when they first arrive and will need time to grow out before they are fully colored like the adult fish in the photos. Keep in mind fish under 2 inches are VERY ...
more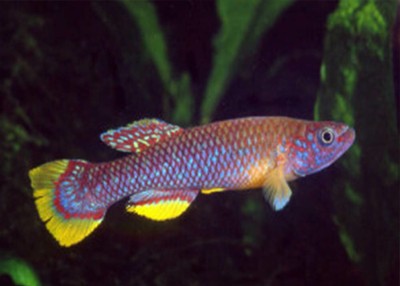 KHET LAT PHRAO, TH
$7.99